Bin activators are commonly used to aid the discharge of products where vessel geometry is compromised. By using vibration and applying this directly into the bulk solid material, it aids the flow and discharge of granular and powdered products from silos and hoppers.
Our bin activators are installed at a predetermined outlet diameter to suit material, vessel geometry and application. Consisting of a conical bottom and internal conical baffle, the bin activator is supported beneath the silo or hopper to enable effective discharge.
The internal conical baffle plate is positioned above the opening of the activated section of the device, working to both support the material static load above the outlet and transmit vibration directly into the product.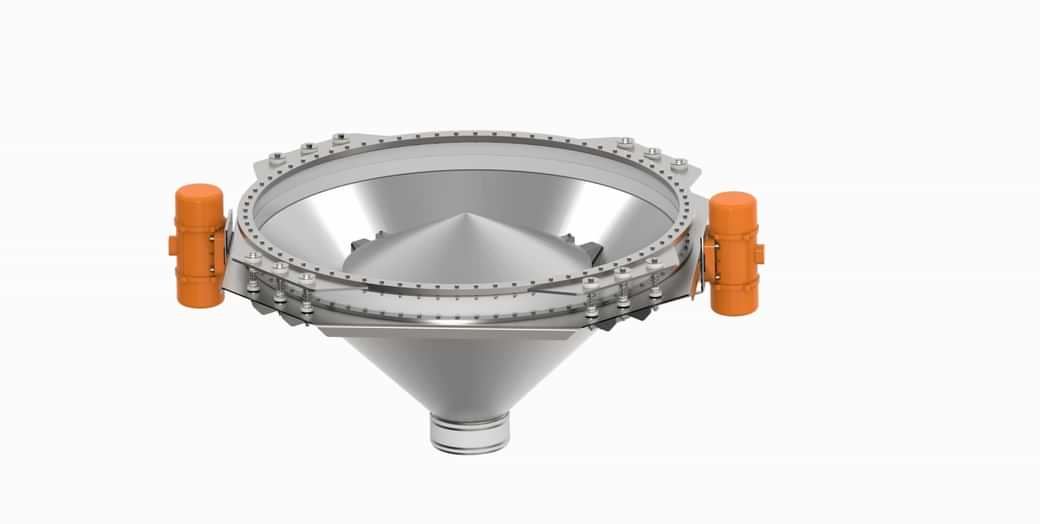 One or two vibrators are mounted externally, which when powered, cause material to move steadily within the silo or hopper where material passes around the annular space between the baffle and the body of the bin discharger.
Once passing the device, material is in a state of flow and is discharged into the outlet section of the bin activator which can be coupled to the downstream process.
Bin activators can provide a limited degree of discharge rate control but are not volumetric devices. Where greater accuracy and complete control is required our Rotoflo discharge units should be considered.
Our bin activators in brief:
Convenient and economical solution
Can be easily retrofitted to silos and hoppers
Low headroom design with central discharge
Options in carbon steel, 304 / 316L stainless steel
Sizes from Ø 900mm (3ft) - 2,100mm (7 ft)
Powerful, compact design
Multiple gasket and sleeve options including food grade versions
Baffles to suit all applications
Relatively low power requirements
Model availability
| Material of construction | Model |
| --- | --- |
| Epoxy coated mild steel | Bin Activator, Model BAC900 |
| | Bin Activator, Model BAC1250 |
| | Bin Activator, Model BAC1500 |
| | Bin Activator, Model BAC1800 |
| | Bin Activator, Model BAC2100 |
| AISI304 Stainless Steel | Bin Activator, Model BAS900 |
| | Bin Activator, Model BAS1250 |
| | Bin Activator, Model BAS1500 |
| | Bin Activator, Model BAS1800 |
| | Bin Activator, Model BAS2100 |
| AISI316L Stainless Steel | Bin Activator, Model BAP900 |
| | Bin Activator, Model BAP1250 |
| | Bin Activator, Model BAP1500 |
| | Bin Activator, Model BAP1800 |
| | Bin Activator, Model BAP2100 |