Fully-Managed Modular Housing Services
Because we can manage the complete modular housing solution - all fully tested and delivered to site - you can concentrate on the larger project scope knowing you're in safe hands.
Our full turn-key solution includes:
Project management and equipment integration
Mechanical & Electrical design
Ancillary steelwork structures, stairs and platforms
Fabrication
Structural steel design
Painting
Electrical first fit and cable containment
Mechanical install of electrical equipment
Interconnecting cables of electrical equipment
HVAC systems
Fire and gas systems
Fire suppression systems
Switchgear supply
Site installations
Applications - How to use Severstor
There are a number of uses for Severstor modular plant and switchgear housings. Predominantly, Severstor units help to provide protection for portable relay and switchgear rooms, control and instrument equipment, substation and railway modules, as well as data and battery storage systems.
As flexible, modular housings, Severstor units can help protect a variety of technology and hardware from accidental damage, weather, fire, blasts, and tampering or malicious damage.
Portable relay rooms are self-contained units which tend to house several interconnected substations. Severstor is ideal for use with portable relay rooms because it can protect the equipment within, providing a strong, reliable external housing which boosts protection from the elements or accidental damage.
Switchgear rooms need to house crucial electrical equipment and as such they need maximum protection from damage and adverse weather. Severstor is a popular choice for housing these units safely and effectively.
Control and instrument equipment need effective protection and Severstor is the ideal modular equipment housing to provide safety, security and protection from damage.
Traction substations and railway equipment modules need adequate protection from tampering, weather and accidental damage. Severstor is ideally placed to provide a safe, effective solution.
Remote instrument enclosures benefit from Severstor's protection, helping to keep them secure and operational.
Data and battery equipment need protection from a full array of things, including weather, damage and of course, from a security perspective. Severstor can meet each one of these requirements with ease.
What sectors can Severstor supply?
Severstor modular equipment rooms can be used in a variety of sectors. Because these units are modular enclosures, they can be created to fit your requirements and tailored to protect your systems, switchgear equipment and data. We have worked with a diverse array of industries to date, which include:
Rail - Severstor is ideal for control and switchgear housings, ensuring safety when equipment might be being housed near tracks or railway crossings. We are certified to supply prefabricated substation enclosures for the protection of HV indoor switchgear up to 33kV and associated control and domestic equipment.
Power - We provide full turnkey solutions for:

Power Generation - Our Portable Relay Room designs are used on HVDC interconnectors and HV Substations. We provide control and switchgear housings to support gas turbine and generator projects.
Power DNO - Our designs meet the specifications for the UK and Ireland Distribution Network Operators (DNO), protecting equipment such as switchgear and control systems.
Power Industrial - Our design and engineering teams can offer support and guidance with the flexibility to provide the best modular equipment housing solution for your business whether it is switchgear, back-up power, controls or rotating equipment buildings.
Power Nuclear - The nuclear industry requires a high level of quality assurance and a collaborative approach from all tiers of suppliers. Our project teams are proud to provide the nuclear Industry with the best design, quality and service in the sector.
Oil and Gas - The standard Severstor design offers a robust building that can be fire rated, blast rated and suitable for zoned hazardous areas. We provide paint systems to suit marine and coastal locations. With the capability to provide complex HVAC systems alongside fire and gas detection, we can provide the complete package to protect all of your critical equipment.
Data Centre - Severstor provide data centre housings that provide power and power -back-up, such as UPS and Generator enclosures. We provide solutions to Hyperscale and edge data centres. We work closely with a leading data centre design and build specialist to provide a turn-key solution. To protect vital equipment, we can offer LPS 1175 SR4 security rating for both the building and doors.
Renewables - We can provide a number of housings to the renewables sector, including offshore wind farm substation and switchgear housings and containers.
Battery Storage - Containers and frequency control containers.
Utilities - We provide an option to convert ISO Containers. We can also offer LPS 1175 up to SR4 security rating.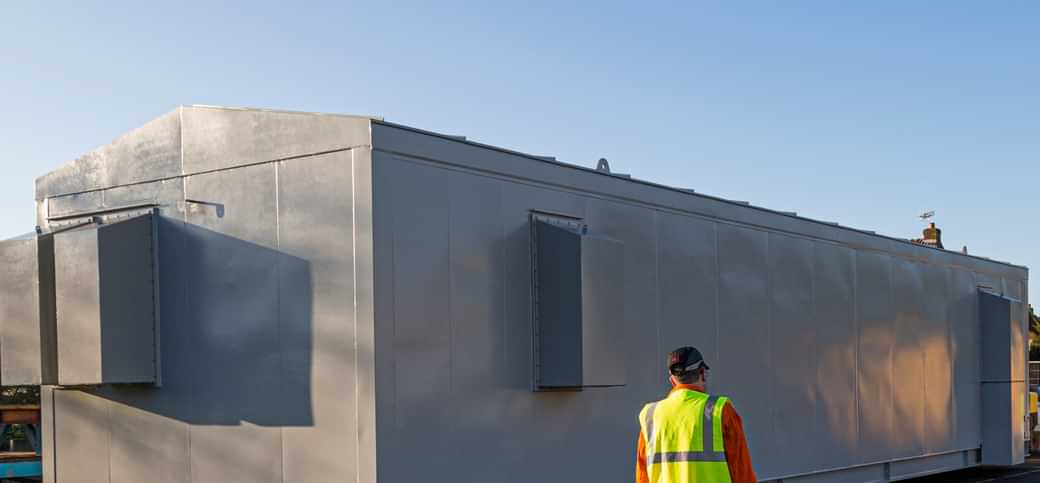 Safety
We conduct regular internal audits on our processes and investigate any non-conformance, including incidents and near misses, so we can drive the health and safety culture of our business forward. Our manufacturing facility for our modular housing units complies with the high standards of health and safety requirements set at group level across Severfield and due to the vast majority of our work being carried out at our facility, there are less personnel on site, reducing the risk of accidents.
Sustainability
The off site manufacture and construction of the units minimses the impact to the environment surrounding a construction site, with less heavy vehicles and machinery required on site.

Construction sites can cause disruption to neighbouring communities, with vehicles travelling to and from site - causing not only increased noise and air pollution but also potentially contributing to congested traffic and delays; by using offsite construction a planned delivery time and date can reduce the issues especially in urban areas.
Our ability to offer full manufacturing enables us to calculate material requirements more accurately, resulting in minimal waste.
Should you wish to speak to us about Severstor