What is Rotoflo?
Silo discharge solutions for powder bridging and ratholing
Rotoflo is designed to help with material handling ensuring that silo discharge is free-flowing and controlled when handling a number of diverse materials. The system is designed to help prevent powder bridging and ratholing in silos and hoppers.
To find out more about Rotoflo, contact rotoflo@severfield.com.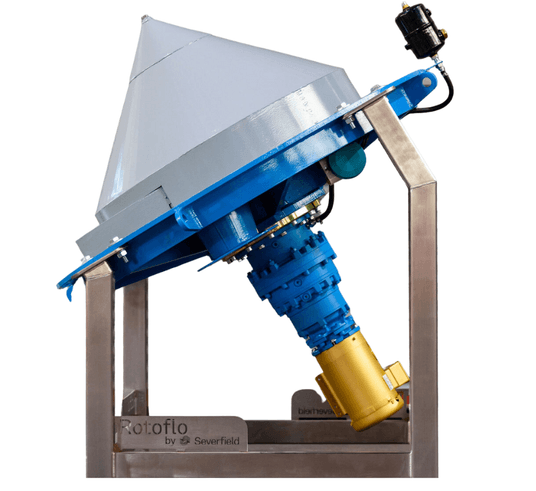 "Rotoflo is the best silo discharger! Multiple outlets, no aeration, no vibration and runs almost maintenance free."
What are silo discharge systems?
Silos are generally used for the storage and discharge of powdered or granular bulk solids; a silo discharge system is designed to aid in the discharge of materials quickly and efficiently, thereby eliminating the risk of powder bridging, ratholing or blockage.
Rotoflo silo discharge units can be built-in or retrofitted to existing vessels and, as such, will allow materials to be safely and efficiently discharged from a silo or hopper. With multiple configurable outlets, a Rotoflo silo discharge unit can both reduce the risk of material flow problems within a vessel, and provide a controlled rate of discharge to multiple downstream processes.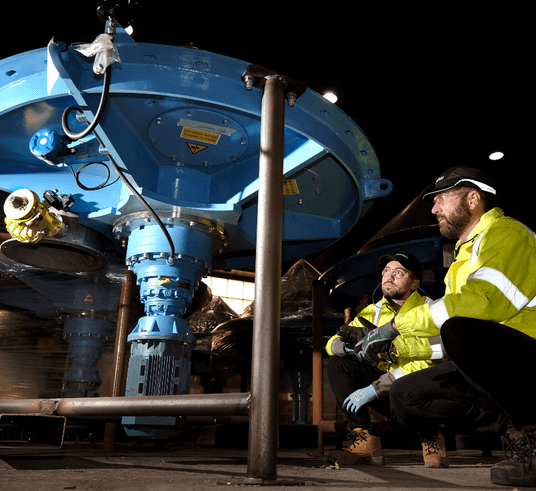 What is powder bridging?
Powder bridging occurs when materials in a silo or hopper become interlocked, thereby forming a stable arch over the designated outlet. When powder bridging occurs, materials stored in the silo become trapped. Silos should be fitted with an appropriate discharge aid to avoid this and ensure correct and efficient discharge.
What is ratholing?
Ratholing is the formation of a stable column of material on the side walls of the silo or hopper. Generally, as a result of unsuitable hopper geometry, in these cases the product will only flow through a channel at the centre of the storage vessel; the rest of the product will stay on the sides. This significantly reduces the live storage capacity of the silo.
What causes powder flow problems in silos and hoppers?
What is the solution to powder flow problems in silos and hoppers?

Vessel geometry including hopper angle and outlet size.
Wall friction – friction between the material being stored and the vessel wall material.
Internal friction – friction within the material being stored.
Consolidation of the material within the vessel due to materials self-weight.
Consolidation with time of the material within the vessel.
Attraction of the material particles (electrostatic or Van-der-Waals forces)
Liquid bridges due to moisture within the stored material or adsorbed from atmosphere.

Large diameter active silo outlet
Elimination of dead space where contents may consolidate.
Low headroom design maximising silo contents
Control of discharge rate
Consistent feeding over a wide range of throughout
Up to four feed points providing a flexible solution without additional equipment
Designed to process a wide range of materials