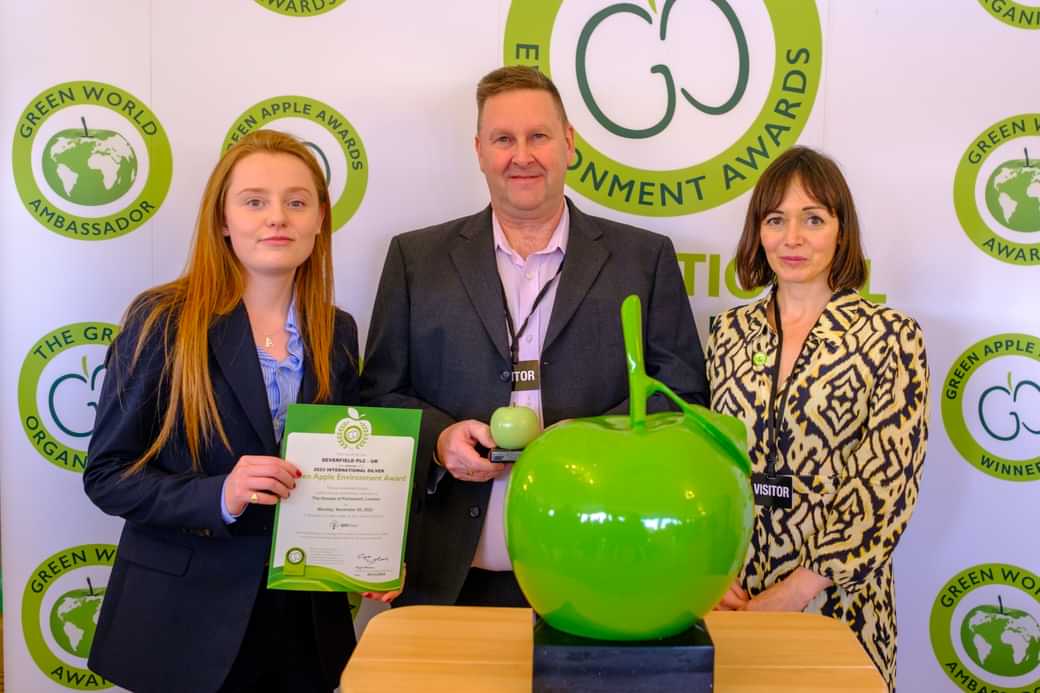 We are thrilled to announce that Severfield has been selected as a winner of the Green Apple Environment Award 2023 for the category 'environmental best practice'. Our transformative initiative, 'Transport Trailer Transformation,' stood out in the highly competitive field of 800 other nominations, earning recognition for its innovative and sustainable approach. We were presented with our trophy and certificate at a presentation ceremony in the Houses of Parliament, London, on November 20th.
The Transport Trailer Transformation initiative tackled a significant challenge in the transport logistics of a large commercial warehouse build. By collaborating closely with our transport partners, Severfield introduced innovative measures. We incorporated the use of an extended trailer and a single reusable steel beam to each transport unit, a move that doubled the steel capacity per truckload from approximately 12 tonnes to 25 tonnes. This logistical change resulted in a substantial reduction in the number of deliveries needed—230 compared to the originally planned 460—therefore leading to an impressive 36-tonne reduction in overall CO2e emissions associated with the deliveries.

The judges said: "Severfield effectively reduced fuel consumption by implementing extended trailers with full-length steel beams. The solution doubled weight capacity, reducing deliveries by 50%. This led to a 50% reduction in fuel usage, saving over 16,000 liters of fuel. This practice has been extended to 100% of their projects where applicable."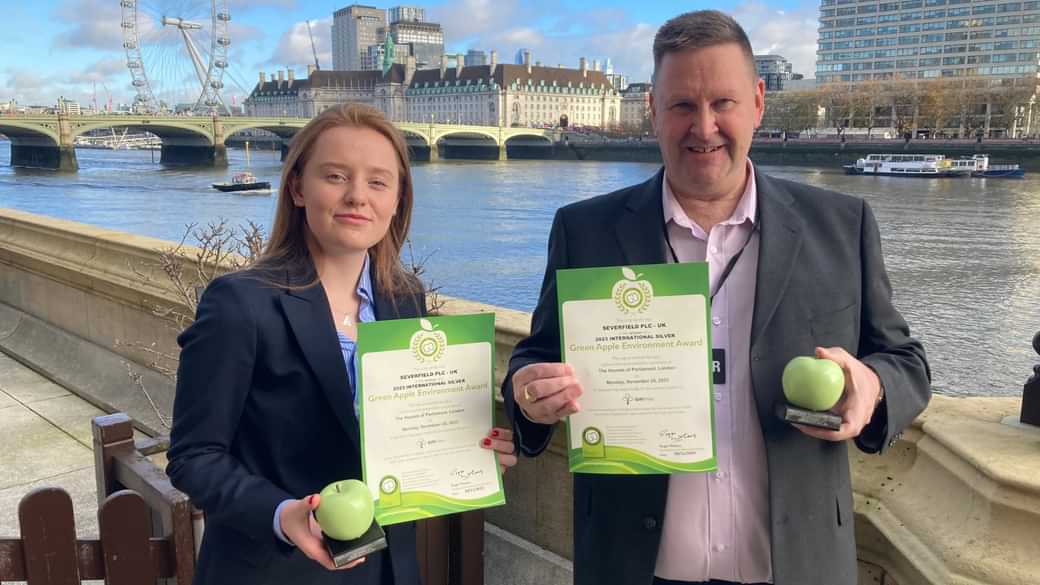 We are very proud of this achievement, and it is a demonstration of the hard work and dedication of Severfield employees. This award from the Green Apple Environment Awards serves as validation of our ongoing efforts toward a greener, more sustainable future.
As a result of this International Green Apple Award success, we have been invited to accept Green World Ambassador status and have our winning paper published in the Green Book (the leading international work of reference on environmental best practice) so that others around the world can follow their lead and learn from their achievement.
At Severfield, we remain committed to making a difference in the environment and look forward to continuing our journey towards excellence in sustainable practices.
Related articles
November 30, 2023
Severfield secures Gold Membership with The 5% Club, showcasing continued commitment to workforce development and training.
Awards
Our People
November 20, 2023
Severfield Receives Green Apple Environment Award for 'Transport Trailer Transformation' Initiative
Awards
Sustainability
September 15, 2023
Our project 'Transport Trailer Transformation' has been shortlisted as a finalist in the 'Excellence in Sustainability Project' category.
Awards